Thur
From REFORM wiki
Thur
Key features of the case study
Redevelopment of natural course.
Site description
Attention: The information presented below has been reproduced from the ECRR brochure[1].
The Thur river is one of the main rivers in the Cantons St. Gallen, Thurgau and Zürich in Switzerland. It has a lenght of 127 km and a catchment area of 1,750 km2. The highest point is the summit of Säntis at 2,551 masl. The 100 years flow is estimated at 1,350 m3/s, the lowest runoff is 2,24 m3/s, and the average flow is 47 m3/s. The Thur is a wild river with no lake or dam or big floodplain for retention.
The first flood control works were constructed in the second half of the 19th century. Today, the ancient dikes and other measures applied in the late 19th century no longer adequately cope with modern discharge conditions, mainly due to insufficient heights, inappropriate construction materials, and poor maintenance. The river bed has been filled with sediment deposits, limiting discharge capacity and increasing flood peaks, while the increased human occupation of the valley in some places limits the extent of the floodplain and interferes with surface roughness (trees) in others.
Measures selection
After the catastrophic flooding due to the breaking of the dikes in 1978, urgent response measures included the repairing and heightening of the dikes and the removal of surface layer sediments from the confined stream bed. The increased attention paid to ecological aspects in later years resulted in a removal of the old stonewall parallel to the stream bed, while groynes were build in combination with obliquely placed blocks and willow trees.
The resulting variety of river works provide both protection while allowing the river a greater freedom to spread and move over a length of 1,500 m and a width of 500 m.
Success criteria
The new design of the river was successfully tested by the flood of 1999 (Q 1,000m3/s), in which only a few blocks were moved downstream, and no extensive repairing appeared necessary.
Ecological response
Fish species like the Chondrostoma nasus and bird species like the Actitis hypoleucos found new habitats within the new river landscape.
Hydromorphological response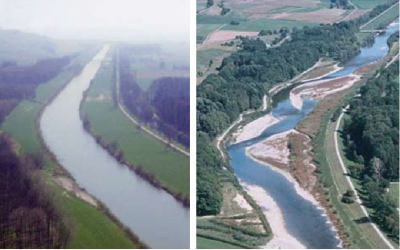 Over the length of the project, the Thur river has redevelop its natural course, in which erosion and sediment deposition processes freely alternate. Scours and rapids as well as wandering gravel beds have once again become a part of the river.
Monitoring before and after implementation of the project
Socio-economic aspects
Contact person within the organization
Extra background information
References
↑ European Centre for River Restoration (ECRR). 2008. ECRR Addressing practitioners (original document in English)
Related Measures
No measures have been assigned to this project.
Related Pressures