Nansa River. Morphological and functional restoration of the Nansa River at Muñorrodero
From REFORM wiki
Nansa River. Morphological and functional restoration of the Nansa River at Muñorrodero
Key features of the case study
The lower reach of the Nansa River was channelized in 1995 in Muñorrodero. As a result of this, its former right branch lost its connection with the main channel, although its morphology remained virtually unchanged. This situation led to a loss of aquatic and riparian habitats.
The project was designed by the Confederación Hidrográfica del Cantábrico, executed by TRAGSA with the financing of the Spanish Ministry of the Environment. The objective was to restore the former morphology and fluvial dynamics in the Nansa River.
Site description
Nansa River has a length of 3200 meters and a basin surface of 411 Km2. The channel width is around 10 meters. The river discharge is around 12,5 m3/s, and the stream power of 245.8 kg m s-3. The substrate consists of sandstone and limestone. The vegetation is composed by a mixed riparian forest (Alnus glutinosa and Salix sp.) and grassland. Among the fish species we can find Salmo salarand Petromyzon marinus.
Measures selection
The main objective was to restore the fluvial dynamics and reconnect a former secondary channel . The proximity of Muñorrodero village imposed some constraints, as flood protection measures were also necesary. Thus, a levee was constructed with bioengineering techniques. The former branch was conceived as a high flow channel, while the main channel is expected to discharge water with low flows. this measure would help to disipate the energy of the high flows, increase the retention of water in the watershed, and increase the diversity of riparian habitats, as the hydrological and morphological conditions vary from the main channel to the side arm.
Alongside to the restoration measures, two footbridges were built and paths were arranged for enable recreational use of this area.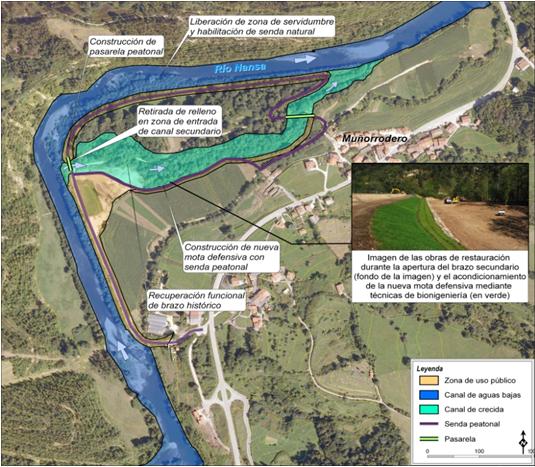 Success criteria
The ideal situation was to achieve a self- sustainable braided channel morphology.
Ecological response
Hydromorphological response
Monitoring before and after implementation of the project
Reconstruction of geomorphic evolution, habitat assessment and hydraulic modelling were done in the early stages of project design. However no monitoring program was designed or has been implemented.
Socio-economic aspects
The total budget was of 1.447.000 €, financed by the Spanish Ministry of the Environment. The presence of meadows, fields and houses involved socio-economic restrictions when designing the restoraion project. flood protection measures were linked to the reconnection of the side channel.
Contact person within the organization
Rubén Santos Alonso
Grupo de Cauces - Tragsa
Centro Cívico
c/ Comandante Caballero s/n
33005 Oviedo
Extra background information
References
Related Measures
Related Pressures