Construct semi-natural/articificial wetlands or aquatic habitats
From REFORM wiki
General description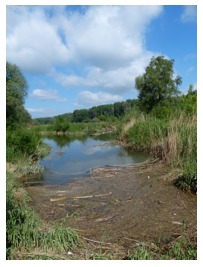 Rehabilitation techniques in the floodplain include the construction of semi-natural or artificial wetlands or the creation of new floodplain ponds or backwaters. Floodplain aquatic habitats include numerous types of ponds, lakes, and depressions. These areas provide valuable overwintering habitat for fishes that prefer lentic habitats (Roni et al. 2005).
Applicability
Off-channel ponds can be created through several excavation or construction methods including excavation or damming of ponds or wetland. New backwaters and off-channel ponds in the flooplain create spawning and rearing habitat for fish. These artifical habitats have the risk to fail because of avulsion, inadequate prey resources, cover, and water quality. It is important to ensure that these constructed habitats are connected to the river as least seasonally, but preferably consistently throughout the year (Roni et al. 2005). The successful conversion of gravel pits, mill ponds, and other constructed floodplain lakes depends on several factors including depth, morphology and cover (Norman 1998).
Expected effect of measure on (including literature citations)
| | | |
| --- | --- | --- |
| Category | Description | Source (citation) |
| Hydromorphology | Higher diversity of habitats and substrates than in the main channel | Habersack and Nachtnebel 1995 |
| Macrophytes | | |
| Macroinvertebrats | Higher diversity and density of macroinvertebrates than in the main channel | Habersack and Nachtnebel 1995 |
| Fish | Higher fish densities than in the main channel | Habersack and Nachtnebel 1995 |
Temporal and spatial response
Not available.
Pressures that can be addressed by this measure
Cost-efficiency
Not available.
Case studies where this measure has been applied
Useful references
Habersack, H., and H. P. Nachtnebel (1995). Short-term effects of local river restoration on morphology, flow field, substrate and biota. Regulated Rivers Research and Management, 10, 291–301.
Norman, D.K. (1998). Reclamation of flood-plain sand and gravel pits as off-channel salmon habitat. Washington Geology, 26, 21-28
Roni, P., K. Hanson, T. Beechie, G. Pess, M. Pollock, and D. M. Bartley (2005). Habitat rehabilitation for inland fisheries. Global review of effectiveness and guidance for rehabilitation of freshwater ecosystems. FAO Fisheries Technical Paper, 484.
Other relevant information