Töss
From REFORM wiki
Töss
Site description
The Töss is a 56 km long river flowing in the north east of Switzerland. The river originates in the north east of the Swiss Alps, and forms the Töss valley. As well as the Thur river (flagship restoration measure), it is a tributary of the Rhine river which originates in the Swiss Alps and ends in the North Sea. The Töss is a pre-alpine river, without natural or artificial reservoirs along its course. The morphological conditions have been highly modified along its 56 km course (figure below). It contains numerous artificial weirs and embankments, constructed in the early 20th to protect cities against floods and provide more land for agriculture. Only the lower part of the river section, close to the connection with the Rhine River, is in good conditions, with almost natural morphology and pristine pool/riffle structure. To date, restoration efforts are made to restore, locally, a natural morphology within the river. The aim is to increase natural habitats, without to reduce water pumping efficiency for local citizens.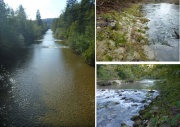 Measures selection
The Töss was restored in 1999 along a reach of 200 meters. The river was widened on both sides of the main river channel. Along the course of the river, embankments were removed to provide a large space to the river (Figure 2). Additional blocks of rocks and wood were added in the middle of the river to enhance the ability of the river to recreate islands. Restoration efforts are expected to increase diversity of instream habitats and corresponding biota.
Hydromorphological and ecological response
To date, hydromorphological and biological indicators both suggest an increase in river quality and conditions after restoration. All organism groups benefited from restoration to different degrees, except for the fish and for the aquatic vegetation (table below). Improvement was most pronounced for ground beetles, which benefited from recreation of gravel bars following the river widening. At a higher spatial scale, the presence of many barriers within the Töss River could explain this lack of new fish species colonizing the restored reach. However the density of fish species within the restored site increased and showed a positive effect of restoration on the species already present in the reach.
| Indicators | Degraded | Restored |
| --- | --- | --- |
| Macroinvertebrates | 47 | 48 |
| Fish | 4 | 4 |
| Ground beetles | 2 | 9 |
| Aquatic vegetation | 4 | 1 |
| Riparian vegetation | 36 | 39 |
Socio-economic aspects
Socio-economic studies will complement ecological approaches, to assess the benefits or costs of restoration efforts. A positive effect of this enhanced naturalness is an increased number of people visiting the restored site, especially on sunny days. This is supported by an easier access to the river and more opportunities for recreational activities. The Töss restoration is an interesting example of river restoration and management in Switzerland, providing information concerning restoration effects, and stimulating current and future studies.
Extra background information
Link to project website:
http://www.awel.zh.ch/internet/baudirektion/awel/de/wasserwirtschaft/bauen_am_und_im_Wasser/neues_gewaesserschutzgesetz/umsetzungsprogramm/teilprojekt2_revitalisierung.html
Contact person
Dr. Amael Paillex (E-mail: Amael.Paillex[at]eawag.ch), Eawag, Swiss Federal Institute of Aquatic Science and Technology, Überlandstrasse 133, CH 8600 Dübendorf, Switzerland
Related Measures
Related Pressures